---
 Let me tell you about my brother Jimmy Wright. We grew up together in Madras, Oregon, a very small central Oregon town plunked down on the high dessert where the irrigation system made farming doable and the citizenry made the best of it.
Jimmy is my younger brother by two years, and growing up out there on the edge of nature we did everything together. We played basketball in the driveway and football in the backyard. I was the gregarious one and he was the more self sufficient quiet one. I played guitar and he drew pictures. 
And boy could he draw pictures.
Our mom was wonderful with water colors and makes our birthday cards by hand every year to this day, so he seemed to inherit that talent, but from the time he was two he was drawing dinosaurs, knights in shining armor, and space ships. These days his subject matter is more domestic!
In the 60's we spent summers in Eugene so our dad the school administrator could further his degree, and to keep us busy mom took us to a little old church that became the Maude Kerns Art Center (1950-present) and signed us up for art classes. In one class they showed us how to carve an image on a block of linoleum and then make a print by hand, using a spoon to burnish the ink into the paper. I liked it, but Jimmy LOVED it. At the age of 7 he had found his passion.
If you asked someone most would say Madras was "out in the sticks" but even out there the school system had a number of teachers who made a lasting impression on both of us. Madras was lucky to have excellent art and music teachers, and one in particular "Mac" Lange inspired my brother to make art his life.
For the past few decades Jimmy has developed his technique using wood to create ever larger prints, but still using a spoon to hand burnish the ink, revealing unique and sophisticated fine art prints. Most block prints utilize only one color of ink, but Jimmy has created many prints with multiple colors to enhance the beauty of each piece. Each print is a little different using this hand made method, each has a certain unique personality even though each comes from the same block.
Jimmy's Christmas card selection has over 40 designs created one per year over 40 years. The fine details and artists eye are shown in his work that began so long ago in a little old church turned into an art center.
Donny Wright
Portland, OR 2022
---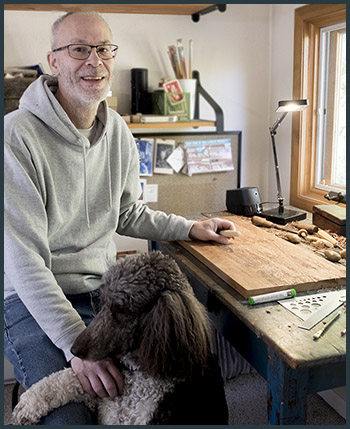 ---